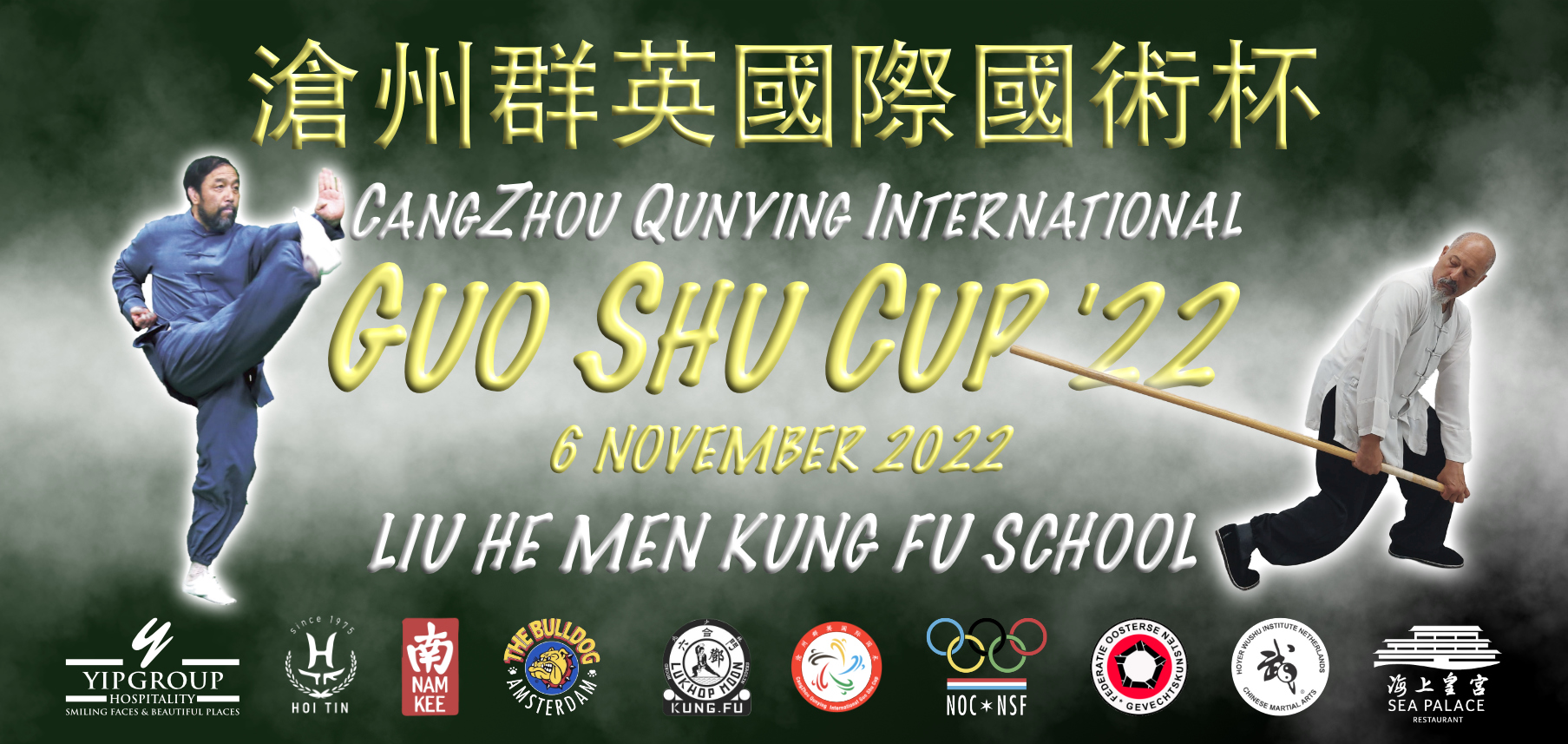 Let op, dit is de informatiepagina over de Guo Shu Cup van vorig jaar. Klik hier om naar de 2023-editie te gaan!
(Like to read this article about Guo Shu Cup 2022 in the English language? Click here.)
Op zondag 6 november 2022 vindt weer de Cangzhou Qunying International Guo Shu Cup plaats in Amsterdam. Deze wedstrijd omvat zowel traditionele als moderne vormen van Kung Fu. Altijd al nieuwsgierig geweest in Kung Fu? Kom alleen al daarom kijken naar deze unieke Europese Kung Fu wedstrijd! Het wordt een prachtige dag met mooie demonstraties, vermaak en feestelijkheid.
Guo Shu Cup BEzoekersinformatie
Toegang:
Volledig GRATIS.
Datum en tijd:
Zondag 6 november 2022, van 9:30 tot 16:00 uur.
Locatie:
Sportcentrum De Pijp
Lizzy Ansinghstraat 88
1072 RD Amsterdam
Klik hier voor de locatie in Google Maps.
Zaal:
Begane grond, zaal 2. Deze zaal is te bereiken via de trap/lift naar boven. Toegankelijk voor gehandicapten, er is een lift naar boven om bij de tribune te komen.
Consumptie:
Er is een kantine met eten en drinken.
Bereikbaarheid:
Goed, zowel met openbaar vervoer, fiets en de auto.
Routebeschrijving openbaar vervoer:
Vanaf Amsterdam centrum of Zuid? Kies de Noord-Zuidlijn (52).
Stap uit bij metrostation De Pijp.
Loop vervolgens door Ferdinand Bolstraat in zuidelijke richting.
Sla linksaf bij het Cornelis Troostplein, Lizzy Ansighstraat.
Het Sportcentrum is op nummer 88. (Het is vanaf het metrostation hooguit 7 minuten lopen.)
Vanaf Amstelstation? Kies tram 12 richting Amsterdam Centrum.
Stap uit bij halte Van Hilligaertstraat.
Loop noordelijke richting naar het Cornelis Troostplein.
Ga rechtsaf bij Lizzy Ansighstraat.
Het Sportcentrum is op nummer 88. (Het is vanaf het metrostation hooguit 7 minuten lopen.)
Routebeschrijving fiets:
Plan de fietsroute met Google Maps en vul het vertrekadres in. Er is ruim fietsparkeergelegenheid, gratis.
Routebeschrijving auto:
Plan route met Google Maps. Er is parkeergelegenheid maar het kan vanwege de verwachte drukte nodig zijn om de straten in de omgeving van de Guo Shu Cup-locatie  door te rijden om een parkeerplekje te vinden. Houd daarom rekening met 5 á 10 minuten gezond wandelen na parkeren.
Parkeren kost € 6,- per uur vanaf 12:00 uur.
Meer weten? Volg de Guo Shu Cup op Facebook, klik hier.
De uitnodiging van Sifu Eleonora!
Blij en dankbaar voor organisatie-hulp, de juryleden en deelnemers Guo Shu Cup 2022
We zijn erg blij om samen te werken met Loe Hoyer van het Hoyer Wushu Institute voor de moderne wushu-divisie. En we zijn ook erg blij dat Ricardo Sousa van de Ricardo Sousa Kung Fu Academy helpt met de traditionele Kung Fu-divisies.
De Cangzhou Qunying International Guo Shu Cup zal een jury hebben die bestaat uit vechtsportexperts en grootmeesters. Deze experts en meesters komen van ver, speciaal om de competitie bij te wonen. Zij kijken ernaar  uit om de (Europese) vechtsportbeoefenaars te zien optreden.
We hebben goede hoop dat de alle juryleden en sporters die zich opgeven aanwezig zijn. Tegelijkertijd, het zijn onzekere tijden en daardoor is het minder vanzelfsprekend dat een ieder erbij kan zijn.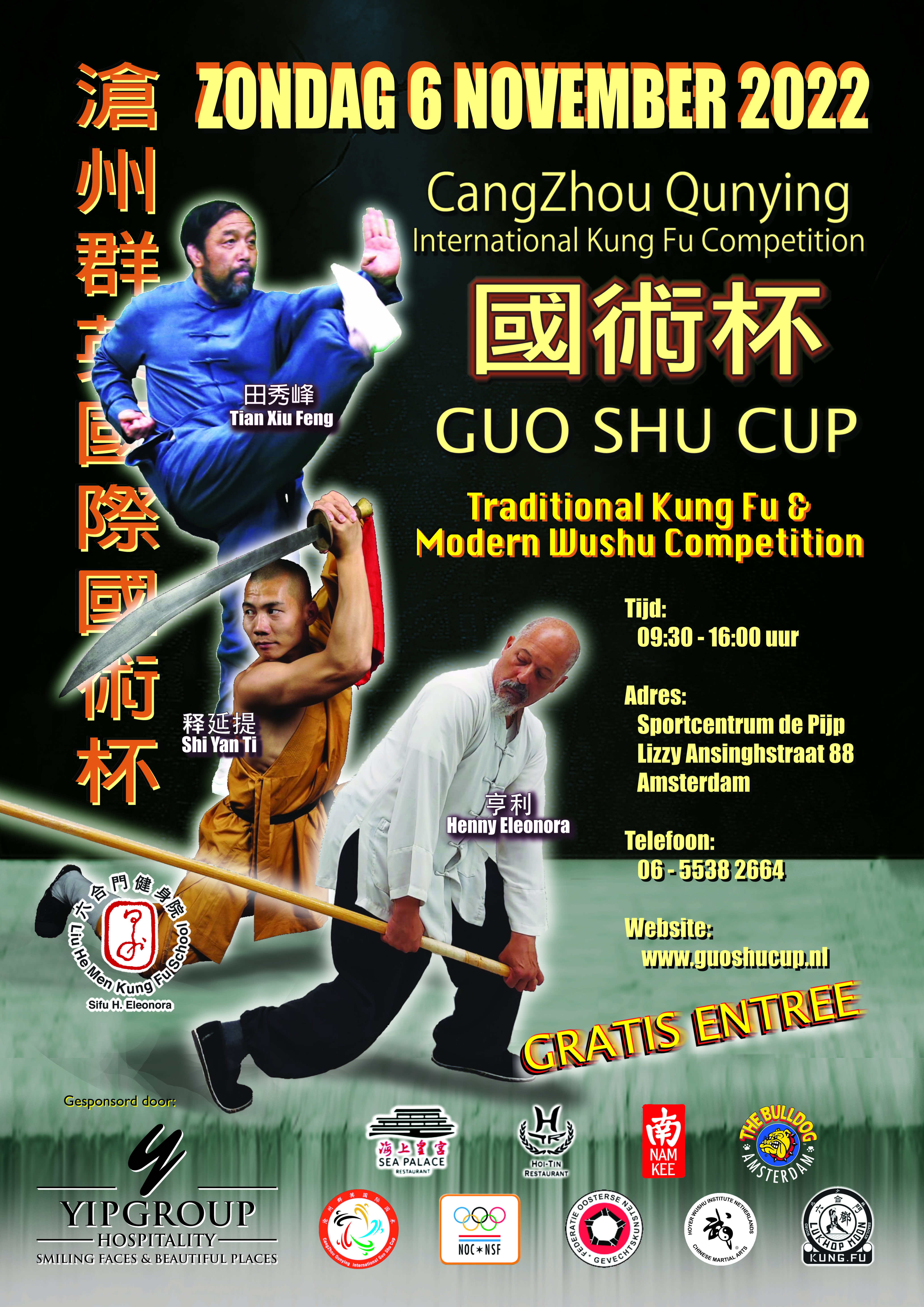 2