Guo Shu Cup
preliminary rounds k-star 2020
n the 24th of May 2020 we will be organizing the Cangzhou Qunying International Guo Shu Cup. This is a traditional competition therefore only traditional forms are to be played. The format of the competition this year is going to be different. The competition will be based on individual competitors. Each competitor must compete in ALL individual categories : hand form, short weapon and long weapon. The Duida will be an exhibition category and will not be compulsory.
The competitors are divided by age (will be checked) and gender:
Males 10 – 16
Females 10 – 16
Males 17+
Females 17+
Please remember all forms played must be traditional forms and be played with traditional weapons. The weapons must be rigid and not flexible like modern weapons.
It is important to us that the competitors take into account the kind of forms they play. Please do not play a modern wushu form or a form that has modern elements added to it. This can only lead to disappointment on the part of the participant.
In closing I would like to ask you to help spread the word about both competitions. There are few schools that concentrate on the traditional kung fu and we would like to be able to reach them.
Please let us know as soon as possible if you will participate. Send your list of participants to:
info@LiuHeMen.nl
Please include the name of the style which you play and the type of weapons which you will be playing.
Deadline 30 april 2020!
regards,
Sifu Eleonora
Liu He Men School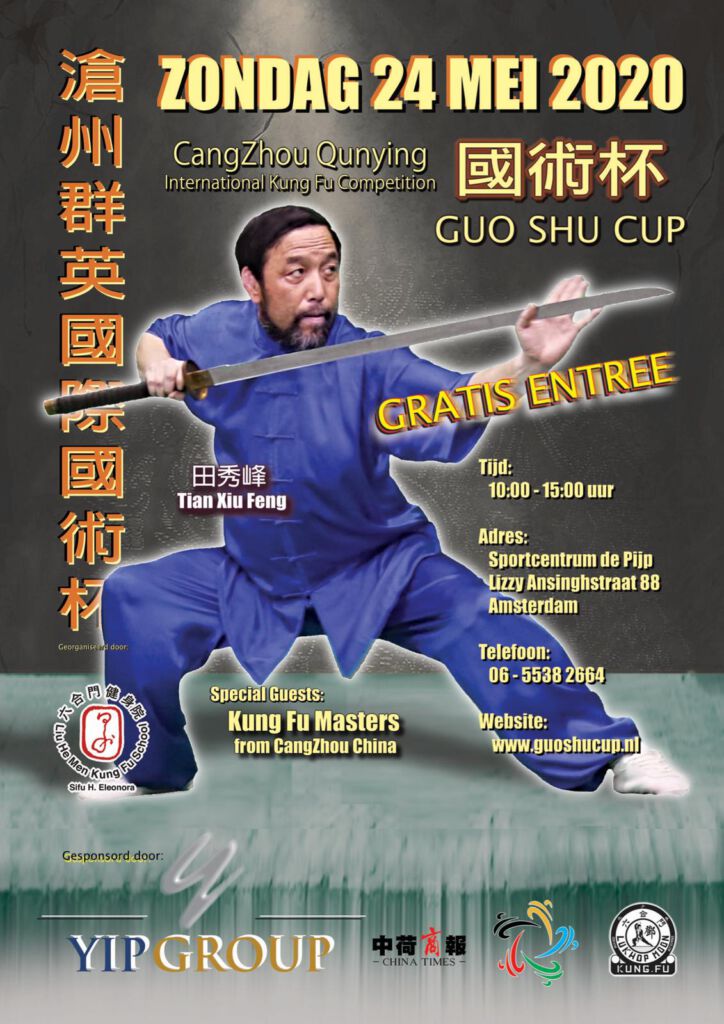 emember all individual categories are compulsory! So each competitor must play 1 handform, 1 short weapon and 1 long weapon. Each form must not be longer than 1 minute and 20 seconds.
The cost of this competition is 40,- euro for each competitor. And 25,- euro for each pair for Duida.
The surprise is that this year we will also be organising a K-Star Traditional Kung Fu competition in Amsterdam on the 20th of June 2020. This competition will be held on the Dam outdoors.
To be eligible to compete in this event you must qualify by winning one of the top 3 all-round places in your age / gender group during the Guo Shu Cup on May 24th. During that competition scores of your 3 forms will be added together. Only the top 3 athletes from each age group will then qualify to compete on the 20th June during the K- star competition in Amsterdam. The 4th and 5th places will also be chosen from each catergory in case of injury or other unforseen problems befalling any of the top qualifying athletes. All forms must be no be longer than 1 minute and 20 seconds. The duida competitors may also be invited to play their forms as a demo.
In the K-Star competition the participants will be competing for the 1st place in their age group. The prize is a cash sum of 800,- euro for the 17+'s groups and 300,- euro for the 10 – 16 age groups
0